2018年5月28日
Responding To: 生活在数字时代:中国人和美国人如何通过创新解决全球性问题
Design Green Business Models with Technology
Ruolin Zhao
Sustainable development goals used to incur costs for businesses rather than generating profit for them. In classic economic models, free-market business operations lead to negative externalities that damage the environment--they could only be fixed through extra government intervention or corrective measures. In order to comply with environmental protection goals, manufacturers had to adopt expensive green production schemes.

As early as the 1990s, many scholars and business people attempted to resolve the contradiction between environmental compliance and profit creation. Thirty years later, the answer comes as clear: with the aid of various technological tools, green initiatives can actually generate profits for businesses and achieve greater impact. For example, DuPont, a U.S. chemical producer, was able to save $2.2 billion a year with more energy efficiency. Aside from generating cost-efficient production methods, technologies also enable the creation of new business models and the establishment of new value chains. These innovations particularly possess the tremendous potential to alter consumers' behavior and way of living, constructing a truly sustainable economy that engages the public.
Ant Financial Service Group, China's fintech giant, exemplifies such an approach. In 2016, the company launched a game application called "Ant Forest" on its Alipay platform. The app pioneers the implementation of green business models in China. A user of the app will gain "green energy" points if living with a low carbon footprint. Preferable actions include, for example, paying for bills online with Alipay instead of requesting paper bills, walking or using shared bikes instead of driving, etc. When the user attains a certain level of virtual "green energy" points, one of Ant's partners will plant a real tree in the user's name. Users can also track the real-time location and status of their trees on the app.
Has Ant Forest created a meaningful impact on the environment and society? A year after its launch, the app had planted 8.45 million trees through the actions of over 220 million users; it reduces over 2,500 tons of carbon emissions daily. Saxauls, willows, and Scots pine trees grow and prosper in the deserts of Inner Mongolia and Gansu. Ant Forest aims to plant 15 million hectares of forestry for each year afterward, which is equal to 1% of the total forest land in China. In a cooperative effort with large philanthropic foundations and the government, the firm has significantly raised the awareness of deforestation among the public.
Has the app generated profit for the firm? With a philanthropic mission and attractive gaming features, Ant Forest has certainly helped Ant Financial attain public recognition and secure a high level of user activity on its payment platform. Its model has accumulated many more reputational and business benefits than any other traditional philanthropic projects. Ant Financial even partnered with the United Nations Environment Program to establish the world's first "Green Digital Finance Alliance" at the World Economic Forum as a leader for more green fintech initiatives worldwide.
Ant Financial's success shed new light on how organizations in the private sector could utilize a combination of technologies to design a new business model and better conduct environmental campaigns. To take a closer look, Ant Financial has combined three key digital components in its model—gamification, algorithm and satellite imaging.
Gamification attracts users to engage. Ant Financial essentially capitalizes on the environmental implication of its core product offering. It equates online transactions with environmental commitment through game rewards. Game design, competitive ranking, and social interaction among users further highlight its entertaining effect. In fact, many other businesses with similar environmental influence could go down the exact same gamification path.
The app's algorithm assigns each user behavior a specific carbon emission amount. It quantifies the indirect impact of user actions and enables recording of behaviors into a digital system. Ant Financial has cooperated with China Beijing Environment Exchange (CBEEX) in this endeavor to develop an algorithm that evaluates 14 user activities. Numbers can update instantly to remind people of their action implications, eliminating the time-lagged feedback of environmentally detrimental behaviors. In comparison with the traditional advocacy for environmentally friendly actions, a scored assessment appears more binding and convincing.
Satellite imagery with real-time photos of trees provides a tangible feedback for users. It is key to prove the credibility of this model by showing evidence of user impact on afforestation. Future development of technologies such as virtual reality could generate an even stronger visual and emotional experience. Through this feature, contribution to environmental protection no longer seems far-reaching for an average person living in the city, albeit thousands of miles away from the deserts. The ability to transcend spatial barriers and make a difference effectively provides fulfillment and satisfaction for the modern population.
Technological tools support businesses to realize social, environmental and economic values. Social responsibilities do not have to be a burden but rather an asset to unlock profit creation opportunities. Engagement of the private sector is key to more efficiently attain sustainable goals, as it often creates easy access for the public and mobilizes wider engagement among its customer pool. Future efforts on marrying business with sustainability through technology will unlock the gateway to an invaluable greener world.
Ruolin Zhao is a junior at Georgetown University (SFS'19) majoring in international political economy.

---
Other Responses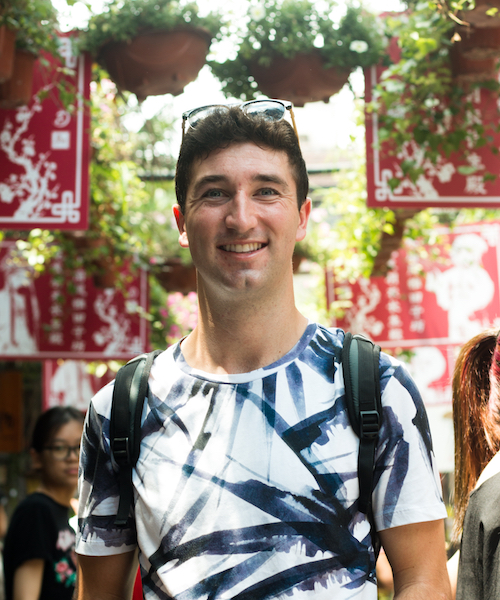 Michael Mullaney | 2018年5月31日
Cynthia Wang | 2018年5月29日
Yamillet Payano | 2018年5月25日
Jessie Dalman | 2018年5月24日
---