2018年5月23日
Responding To: 生活在数字时代:中国人和美国人如何通过创新解决全球性问题
Using Powerful Tools to Improve Our Potential and Magnify our Voices
Haile Chen
请注意:中英文网站上发表的学生日志均为英文。

While regarded as the so-called future leaders, but at present not yet deeply involved in the policy making process, we must admit that as youngsters we lack the real power to make a huge difference in the world. In my opinion, the two most valuable things we actually possess are our potential and our voices. And fortunately, in this digital age, all of the amazing innovations provide us with powerful tools to improve our potential and magnify our voices. What's more, though our influence on the macro-level is limited, we can still make efforts to resolve more specific problems.

First of all, as responsible citizens of Earth, before translating thinking power into real power, we need to sharpen our thinking ability and expand the breadth of our knowledge. Mutual understanding and trust in our generation form the basis for future cooperation. Even if we inevitably fall into competition, full understanding of the opponent can help us avoid meaningless suspicion and waste of resources. However, although we live in a time of information explosion, communication in its true meaning is still not so easy. We use different social applications, we speak different languages, so in most cases our voices will only echo in our own circles and prejudice will continue to deepen, not to mention those biased news reports making the situation worse.
Face-to-face talking should be the first choice to clear up misunderstandings. Last year, when I was in Washington, D.C., one student fellow talked with me about China's political system. He sharply pointed out its similarity with ancient China's autocratic system while I placed more emphasis on China's progress under huge historical inertia and China's special reality. We both enjoyed this conversation and are inspired to think through this problem in more depth. Nevertheless, we must notice that overseas exchange experiences are still rare and precious for most students, considering China's immense population base. Under such circumstances, online discussion is still a practical and effective alternative. I have found some good platforms to help promote mutual understanding. Some online Q&A communities offer a way of direct dialogue and debate. For example, I can see that some foreigners answer questions in China's "Zhihu". And after registering an account on Quora, a U.S. platform, and following the "China" topic, nearly every day I would receive push notifications about questions like "Why shouldn't we make China a democracy?" and "Why is the Chinese government against Falun Gong?" and "Is Google banned in China?". Some Chinese people have really good answers to these questions. (Many of them are Chinese young people.) Furthemore, online education websites like Edx and Coursera also offer an opportunity to better understand the outside world.
Second, the importance of voices from youth should never be understated. Young people have time and energy, and are always more enthusiastic to make their own voices heard about social events. Now, with the help of social media and other technologies, young people can initiate a movement more easily and even launch a world-wide protest on platforms such as Facebook, Weibo or Wechat. In China, with tighter restrictions on public space for political argument, young people are still trying their best to express their own attitudes and positions. Recently, Ms. Yue, a student at Peking University, accused the school of intimidation in an open letter. I witnessed that her letter ricocheted around Chinese social media and went viral among university students. We tried various methods to keep it online and help it garner extensive attention. Later on, People's Daily, a state-run newspaper, offered official comment on this event. Students are still following its progress closely. Several months ago, when Weibo was preparing to clean up harmful content, it classified homosexual, pornographic, violent content into one category and sparked outrage; a lot of young people showed their anger on Weibo and Wechat. Finally, Weibo reversed its decision and People's Daily also published an article showing more goodwill to homosexual people. I strongly believe the voices from young people are one of the driving forces of the progress of human society. Though they will probably be ignored, we should bear in mind that sharing our voice is always better than just being silent.
Third, with nimble and creative minds, young people can resolve some of the more specific problems which are always neglected or regarded as trivial things by political leaders. For example, Angela Luna, a girl from the Parson School of Design, designed a multipurpose garment for refugees which could address some prominent challenges they face such as the need for warmth and protection from the elements. This is not a significant innovation but it can really improve refugees' living standards.
In a nutshell, in order to be qualified as future leaders, we should act now, to learn from each other, to make our own voices heard, and to do whatever we can to move a little further towards a more prosperous global community.
Haile Chen is a junior at Tsinghua University in Beijing, majoring in construction management and minoring in finance.

---
Other Responses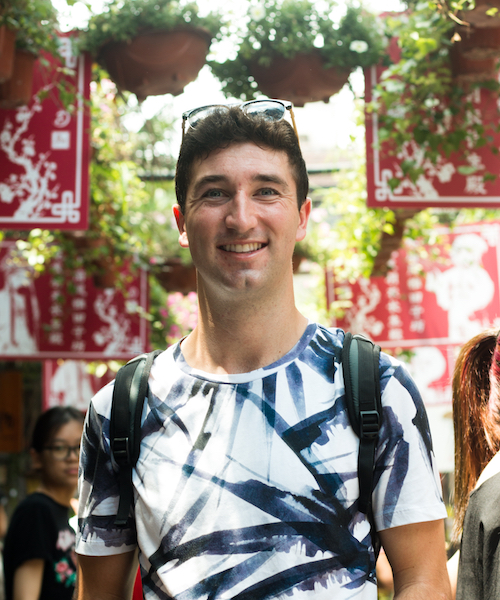 Michael Mullaney | 2018年5月31日
Cynthia Wang | 2018年5月29日
Yamillet Payano | 2018年5月25日
Jessie Dalman | 2018年5月24日
---