December 31, 2018
Responding To: Managing U.S.-China Cooperation and Competition
How the War on Blue Skies will Maintain U.S.-China Cooperation in a Changing Global Economy
Isabelle Hupez
The space for cooperation in U.S.-China relations has considerably diminished in the last two years. The reality of hardening U.S.-China tension is that any argument to maintain cooperation on global issues of common concern will have to be strategic. Although the United States and China operate within different political frameworks, it is necessary for these two economic powerhouses to maintain a collaborative rather than competitive approach on issues such as the environment for the world to effectively address global climate change, one of the most pressing issues of the twenty-first century.
I put forward two methods that seek to improve cooperation on U.S.-China relations. The first method is combating a common threat: climate change. One of the most compelling cases for U.S.-China cooperation is a matter of survival because the next war is not a tit for tat bilateral trade war on tariffs; it has already arrived and it is in the Blue Skies. Air pollution caused largely by burning fossil fuels, is cutting global life expectancy by an average of 1.8 years per person, making it the world's top killer. China cuts its life expectancy by as much as seven years according to new research from the Energy Policy Institute at the University of Chicago (EPIC). Each nation's self-interest drives their motivation with this approach. To address these worrying trends, in 2016, China's latest Five-Year Plan emphasized quality of life for most Chinese citizens rather than just growth as the country enters a period of 'new normal'. Although maintaining economic growth around 6.5 percent remains a priority, the Plan focuses on channeling growth in a sustainable manner toward improving quality of life through innovation in energy, industrial and transport industries, financing environmental technology and developing an ecological living and culture.
China has committed to integrating renewables as part of its future economic growth. This integration of environmental policy at the heart of China's economic growth strategy reveals a pivotal point in which an export-driven economy prioritizes social well-being and sustainable development into its gradual shift as a consumer-driven economy. This is redefining the economic model as a country's transition from developing to developed economy no longer depends on fossil fuels but on the contrary adopts and integrates cleaner energy in its infrastructure. Meanwhile, for the U.S. energy sector, the "Shale Gas Revolution" has increased domestic gas production by 35% in the last decade as fracking technology has greatly impacted global energy markets. In 2015, the United States lifted its four-decade ban on oil and gas exports. Consequently, the United States will become the third largest exporter of LNG by 2019. In this escalatory trade war, LNG trade between the United States and China is a meaningful and strategic way to help rebalance trade between the two countries while tackling climate change.
The second way of maintaining cooperation is by creating and respecting common norms that reflect shared ownership and trust. These norms could be implemented through a U.S.-China energy pact that develops the energy and infrastructure sectors in each country respectively. Based on data compiled by the World Resources Institute in 2013, China and the United States. were the two largest greenhouse gas (GHG) emitters in the world and together accounted for 39% of global GHG emissions. On July 3, 2018, China published its Air Pollution Action Plan, which outlines how the country will win the "Blue Sky War". The government is focusing on the role of natural gas as a bridge fuel to deepen renewable energy penetration as part of its forward-looking economic growth. It is therefore no surprise that China is the fastest-growing consumer of natural gas in the world as it seeks to rapidly tackle air pollution in cities.
With a lack of pipeline infrastructure, China's domestic LNG price rose to 3-year highs as LNG terminals faced capacity bottlenecks and logistic constraints. Although natural gas entails high costs and is subject to seasonal shortages, it has proven to yield considerable environmental, social and health benefits. Meanwhile, U.S. companies can play an augmented role in the Chinese market, assisting with facility construction, distribution networks, and storage systems given China's current lack of domestic energy infrastructure in meeting its natural gas consumption needs. Furthermore, the abundance and stable supply of U.S. natural gas can help balance China's import portfolio by avoiding potential disturbances from risky and conflict-ridden areas as most of China's contract partner for LNG and pipeline gas from Russia and Turkmenistan base the price of natural gas by indexing to oil, a highly volatile commodity.
Therefore, maintaining U.S.-China cooperation through strategic self-interests that tackle climate change as well as setting new norms through a U.S.-China energy pact that focuses on natural gas is an ideal starting point for long-term, result-oriented bilateral cooperation as U.S. energy abundance and expertise are at the service of China's pollution mitigation plan.
---
Other Responses
Chang Fan | January 1, 2019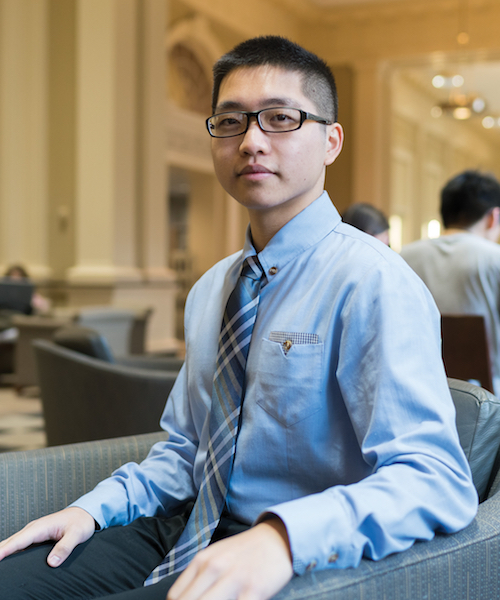 Danny Li | January 1, 2019
Jozanne Murphy | January 1, 2019
Junming Cui | January 1, 2019
Lakshmi Iyengar | January 1, 2019
Xiaogu Xu | January 1, 2019
Aaron Baum | December 31, 2018
Andrea Su | December 31, 2018
Ivan Solomon | December 31, 2018
Yihong Shi | December 31, 2018
Zhaoqing Li | December 31, 2018
---